Why do you need classic car insurance?
We understand that your classic car is more than just a car. It is a great passion and at the same time it poses as a valuable collectable to your personal assets. However, damages can occur at any time whether you drive your vehicle or not, causing a loss in value. If your classic car is damaged or stolen, our classic car insurance covers restoration or even a replacement.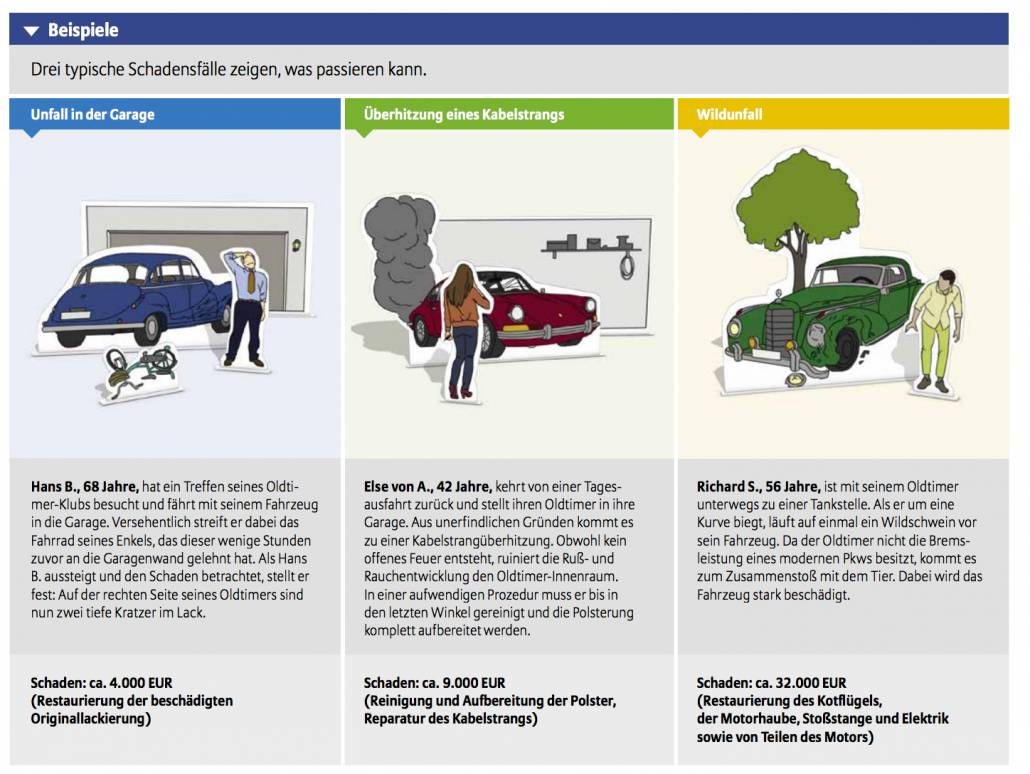 Personal Classic Car Insurance
Coverage:
Our classic car insurance protects your classic car and collection of vintage cars. We can meet your needs including accessories such as trophies, replacement parts, and specific tools.
Value Coverage:
Coverage can be provided for classic cars driven for no more than 3000 km per year and a minimum value of at least 200.000 Euro. The minimum value does not have to be met for classic car collections.
All-around Coverage:
The all-around coverage provides the most comprehensive protection including all damages that are not specifically excluded. This goes beyond a full comprehensive coverage by covering mechanical breakdowns such as engine and transmission damages, a damaged bonnet, false operation of the vehicle as well as scratch and paint damages.
Compensation:
If your classic car breaks down, Allianz replaces the agreed value coverage. In case of damage, the restoration costs are covered.

That is what you should know:
Recommended for: Vehicles such as cars, trucks, motorcycles and other automobiles that are older than 25 years, which have not been driven for more than 3.000 km per year and their value does exceed 200.000 Euro.
Not recommended for: Classic cars that are driven daily or which the value is lower than 200.000 Euro. If your car falls into this category, Allianz can arrange insurance coverage specifically for your classic car(s).
No Coverage for: Normal wear and tear of your car, as well as damages caused deliberately or grossly negligent such as racing, low oil and water.
Night time policy: The risk of theft of valuable classic cars overnight is extremely high. To provide comprehensive coverage, your vehicle has to be located within an enclosed building from 10pm-6am.
Deductible: The deductible is usually 2.500 Euro in the event of a claim. Other policies may apply.
Appraisal: We need a current appraisal from certified inspection companies such as TÜV, DEKRA or Classic Data in order to begin your insurance coverage.
Liability insurance: The law requires owners driving classic cars in public to carry liability insurance. Your Allianz representative will be happy to assist you regarding this matter.
Personal Art or Home Insurance: If you are in possession of valuable objects in your home (such as exclusive furniture or art objects) or want comprehensive coverage for the real estate itself, ask your Allianz representative.
General terms and conditions: The information can only provide an overview of the coverage. The coverage is determined in accordance with general terms and conditions, specific conditions and policies for your personal classic car insurance.